Oakley Vale hosts Trust competition
Oakley Vale hosted a Trust competition and collaboration day in maths and DT together with the Trust primary schools, Gretton Primary, Beanfield Primary, Compass Primary and Peckover Primary.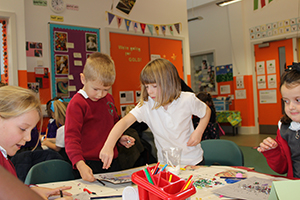 The day was open to students in Years one, two and four with four children from each year group attending. Year 4 took part in a maths challenge, which saw them complete a mixture of different challenges throughout the day, including a multiplication trail and using tangrams – a Chinese puzzle consisting of seven shapes - to create Christmas shaped pictures.
Years 1 and 2 took part in the DT competition. They had five different Christmas challenges to complete both in teams and as individuals, which included making a Christmas tree using sequence, making a cracker placing a prize inside and joining it together and designing and icing a Christmas biscuit.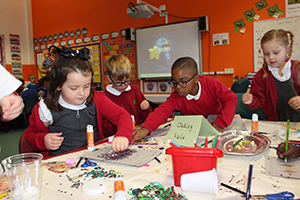 Each challenge scored the teams points, which were added together at the end of the day to determine the winners of the Trust trophies. Beanfield Primary were successful in winning the maths challenge and Peckover Primary won the DT competition.
Year 3 teacher Mrs Becky Annetts said, 'We hold themed Trust days throughout the year at each of the five schools. It is a fantastic opportunity to come together to work collaboratively as a team, and each school to gets to know the children from the other Trust schools. There is of course a competitive element between us all but it is a lot of fun as well.'
Year 4 student Danielle Mwarewangepo said 'It has been quite hard so far and it was tricky to find all of the maths clues around the school but it was lots of fun. I like getting all of the Trust schools together because you get to know other people and to know what they do and think of maths and how they do maths challenges. I like maths it is one of my favourite subjects.'