Students watch Brooke Weston Academy's 'The Grinch'
The whole of Key Stage 2 were invited to Brooke Weston Academy to attend the first live performance of the Year 9 drama student's performance of 'The Grinch'.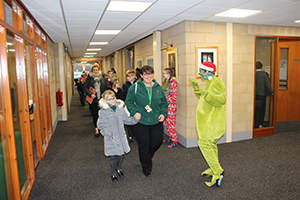 The show was in preparation for the students GCSE performance and enabled them to gain a greater understanding of the expectations of the course and confidence in performing.
The students walked down to Brooke Weston and were greeted as they walked in by the cast of the show dressed up in their costumes. The Grinch was a fantastic show full of laughs and the real meaning of Christmas.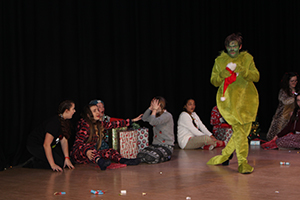 Principal Miss Emma Goodwin said 'The show was amazing and you could see that the students had worked really hard on their performance. The characters entertained the children making them laugh before the show even began and we are now all feeling very festive!'
Oakley Vale Year 5 student Taylor Lawrie said 'It was lots of fun and I thought they did a very good job.'
Oakley Vale Year 5 student Dominika Mamczarz said 'It was really funny and I liked how they carried on celebrating Christmas even though The Grinch had stolen all the presents. I thought it was a good message about Christmas.'