NMPAT perform at Oakley Vale
Four members of the Northamptonshire Music Performing Arts Trust were invited into assembly to perform a concert to students and teach them about different musical instruments.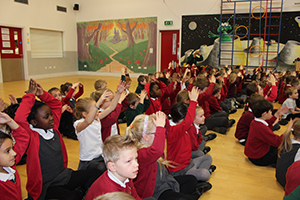 The students were taught about the brass family of instruments, how four of them playing together was called a quartet, the names of their instruments – trumpet, trombone, tuba and the French horn and how and why they all sound different, as well as the names of the different parts on each instrument.
They performed a number of songs including 'Let it Go 'and 'Everything is Awesome' which the students sang and clapped along to and ended with a singing and action based song about the brass family of instruments.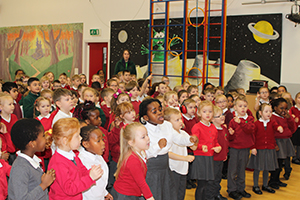 Music subject Lead Miss Frankie Barrington said, 'The concert was fantastic; the students really enjoyed it and were singing and clapping along. We thought it would be a good opportunity for the children to hear lots of different instruments and find out more about instruments in a certain family which they certainly did and learnt a lot from the experience.'
Rachel Coles from NMPAT said, 'We are part of the Northamptonshire Music Performing Arts Trust and are a lead part in the Northamptonshire Music Education Hub, this is part of our first access delivery making sure that all students have access to live musical experiences. We have been doing this a number of years and have changed how we present the concert to make sure it is more interactive and gives the students the chance to feel what it feels like to be a performer. It is fun and we want them to know that.'
Year 2 student James Haldane said, 'I really liked the concert, it was very good and I liked joining in with the songs. I knew about the piston valves on the instruments already. My favourite part was when they played 'Everything is Awesome.'