SEND students take part in New Age Kurling competition
Students at Oakley Vale hosted a New Age Kurling competition for some of our SEND students and invited two local schools, Cottingham Primary and Woodnewton Primary to take part.
The competition, organised by Corby and Oundle School Sports Partnership, is played by pushing stones along the ground towards a target with the idea being to get as many of your stones closer to the centre of the target than your opponents stones. It can be played by both able-bodied and disabled people of all ages and abilities, making it a very popular new sport.
The teams played three ends (games) a match and those with the most points went through to play in the final. Cottinghame Kurlers 2 and Woodnewton Twisters made it through to what was an extremely close match that went to sudden death, with Cottingham Kurlers 2 finally winning.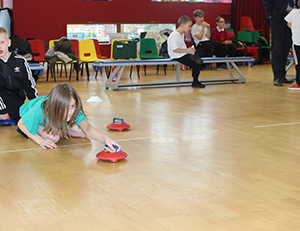 Corby & Oundle School Sports Partnership coach Simon Fowler said, 'We put on lots of different activities and events for all of the local schools and part of that remit is to organise some inclusive events for SEND students. New Age Kurling is a popular sport that all students enjoy and tend to be good at so we decided to hold our first completion in it, which has been a huge success.'
Year 6 student Brian Adams said, 'New Age Kurling is fun but you have to get the accuracy right otherwise you wont win and that is quite hard.'