Online Safety
Please read our July 2022 Online Safety Newsletter
Oakley Vale Primary - Online Safety News (office.com)
The online world is posing an ever-increasing risk to children, and it is important that schools, parents and carers work together to take an active role in teaching children about online dangers. Learning how to act safely when using the internet is an incredibly important part of safeguarding our children.
At Oakley Vale we discuss staying safe online with the children regularly and ways that we can keep ourselves safe. As a school we continually look for ways where we can support both pupils and those at home with Online Safety.
Throughout the academic Year 2021-2022 we have offered a range of different support tools to families to help with keeping safe online. These include: Weekly #WakeUpWednesday guides sent out around a variety of online apps/websites and topics; parental support sessions where support was offered with setting up privacy and parental control settings on tablets and mobile devices; child and parent workshops where parents and children work together with an external company to create a piece of work around staying safe online.
Through our current computing and PSHE scheme of work we tackle discussions and areas of online safety within our weekly lessons. This allows us to target specific needs within our classes to make the learning and knowledge more pertinent for each class within our school.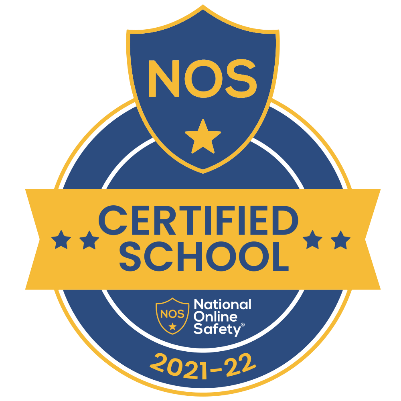 As a school we have also been able to become a National Online Safety certified school by all staff members completing the annual online safety training; parental involvement with completing the relevant online safety training for themselves and as a school using the appropriate resources when there is need.
Advice for parents​:
Talk to your child about the websites, games and apps that they use. By understanding and involving yourself in their internet use, you are helping them keep safe.
Be positive about the internet and remember that it is a fantastic learning and communication tool.
Try not to overreact to minor issues. Children often worry that you may take away their internet access, they may become secretive and hide problems from you.
Keep PCs, laptops and games consoles out of bedrooms wherever possible. Having the laptop in a family room makes it easier for you to monitor your child's internet use, whilst still giving them privacy.
Set clear and consistent ground rules and expectations for your child's online behaviour. If they understand what is and is not acceptable, it may help them with any problems in the future.
Key Links:
https://www.familylives.org.uk/